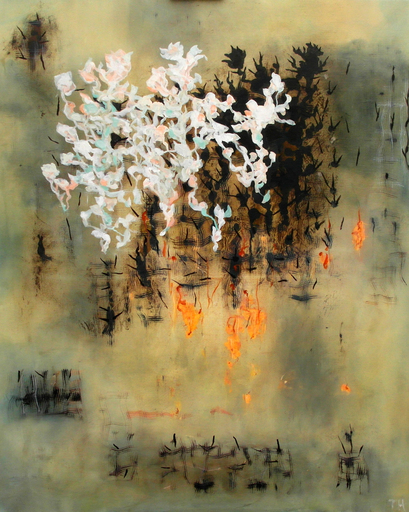 THEA PETERS

Bussum 1950-lives and works in Est-The Netherlands
Academy for Visual Arts Graphic design and illustration.
Paintings And Watercolors
Structures and pattern from nature
Color, rhythm and repetition with addition of graphic patterns are the most important elements in my works. I am fascinated by the emergence of life. A string of coincidences. Organisms, cells,creatures, patterns and ultimately minerals and rocks. An infinite interaction and movement. All this I try to depict.
The search for my own visual language and atmosphere forms the basis to create.
The paint determines partly how the work. I start out with a color and process my idea vaguely in the wet paint. Then I go on further as the paint is almost dry. Usually I work on multiple canvases at the same time to preserve the spontaneity.
In the technique of the watercolor it is all about drying processes. And that makes it exiting for me since it requires concentration and no thinking. Only in this way I can create an image that hopefully surprises and makes me curious to the next one. It took me a whole time to get to the same immediacy, which is needed for working with watercolor, in the oil paintings.
Paint for me is very familiar. I grew up in the smell of paint. My father had a painting business and was restorer of church interiors.
In my childhood I did my drawing on paper from old wallpaper books. I probably have a penchant due to that for elongated forms and patterns.
Please contact me for any information:
Thea Peters Dreef 21 3185 NH The Netherlands
00316 18089801
tm.peters@outlook.com